Tours and visits to the Museum of Wildlife and Fish Biology are available by appointment only. Limited public displays are located directly outside the Museum in the adjoining hallways of the Academic Surge Building. For more information on booking a tour, see below.
The Museum of Wildlife and Fish Biology has an active outreach program reaching over 2,000 K-12 students and hundreds of adults annually. Traditionally our goal has been the education of undergraduate and graduate students at UC Davis. The MWFB collections and staff support over 50 courses across 10 different departments on campus, interacting with over 2,700 undergraduate students annually.
We are expanding our outreach programs to include more opportunities for the general public to learn from our collections, and we are working on building our virtual educational resources. If you have a suggestion or ideas about how we can be of service, please let us know.
We also provide specimen loans for use in classrooms (7th-12th grade) and on college campuses. Specimen loan requests can be made to mwfb@ucdavis.edu.
The Museum of Wildlife and Fish Biology is not generally open to the public,

but organized groups (school classes, home schoolers, retirement clubs) of any age may make advanced reservations to visit.

Please contact us at least one month in advance.
Please email mwfb@ucdavis.edu to schedule a tour.
Tours for UCD staff, faculty, and students
We encourage and welcome tours for UC Davis students and courses (lectures and labs), student organizations, and staff groups. We can accommodate up to 12 people per tour. A guided tour can be tailored to a specific topic or theme, such as natural history, field biology, museum science, internships and careers in wildlife, and more.
At this time, there are no fees for groups within the UC System. Please contact us to schedule a tour at least one month in advance, preferably at the beginning of the quarter. 
Tours for schools and the general public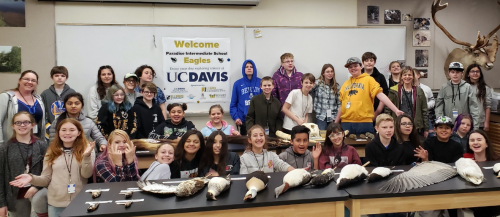 Tours cost $4.00 per person, with a minimum of $32.00 (8 people). The collections are closed for public tours on Mondays and Fridays. Students must be in third grade or older. For more information, please contact mwfb@ucdavis.edu.
Our research facility is not designed for large groups. We can accommodate up to 12 people per tour. Large groups will be split into smaller groups, and we can assist in coordinating a concurrent alternative activity.
A guided tour can be tailored to a specific topic, theme or interest. Most tours provide an overview of the history and scope of the collection. We explain the different ways we prepare specimens and the importance of maintaining collections for scientific research. We try to make the tours engaging and we welcome your questions and curiosity.
Location
Click here for an interactive campus map, or here for a PDF map to the MWFB. Click here for directions.
Parking
There are several parking lots within walking distance of our location. They include several lots along La Rue and the campus South Entry Parking Structure. See TAPS for current parking fees and instructions. Buses are advised to park in South Entry Parking Structure, located south of the Mondavi Center at the intersection of Old Davis Road and Hilgard Lane.
Biodiversity Museum Day
Annually we are open to the public on Biodiversity Museum Day. This is the only day visitors of all ages are able to explore our research collections, watch live specimen preparation demonstrations, see exhibits, and engage with our scientists.
Picnic Day
On Picnic Day, we host exhibits for the Department of Wildlife, Fish, and Conservation Biology, the UC Davis Chapters of the Wildlife Society and American Fisheries Society, and the Graduate Group in Ecology. Exhibits include live fish educational exhibits, and hands-on demonstrations. On Picnic Day we encourage everyone to get up-close and personal with our scientists and learn about current research.
Bio Boot Camp
For students entering grades seven through twelve, we partner with the Bohart Museum of Entomology and UC Davis Campus Recreation to offer Bio Boot Camp each summer. Bio Boot Camp 1.0 is a week-long, all day program for younger students interested in the natural sciences, while Bio Boot Camp 2.0 is a week-long overnight program for older students to learn more about conducting research in the field. For more information, click here.