Kazakhstan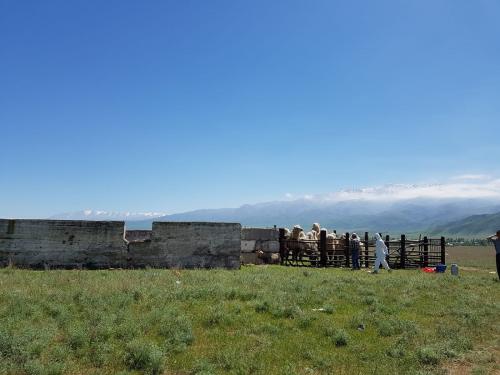 The Kazakhstan project studies the role of camels as a reservoir for Middle East respiratory syndrome coronavirus. There is increased interest in studying their role in the maintenance of zoonotic pathogens. Camels are disease transmitters of several 'select agents,' including Crimean Congo haemorrhagic fever virus, tick borne encephalitis virus, and Coxiella burnetii (Q fever).
This project aims to characterize the utility of camels and other livestock as sentinel animals to access the geographic and behavioral risk for zoonotic agent exposure. This study will strengthen the ability of Kazakhstan and the surrounding countries to respond to infectious disease outbreaks by identifying geographic hotspots based on genomic and serological (antibody-based) detection of infection with a range of zoonotic agents in camels and other livestock. We also aim to characterize bat-borne virus spillover to camels and livestock as a possible reservoir for zoonotic pathogens.
This project consists of four specific aims:
Determine

camel seroprevalence to zoonotic pathogens in Kazakhstan by geographic location, farm size, and habitat type.

Develop probabilistic models and risk maps across Kazakhstan to identify zoonotic hotspots.

Determine the suitability of other livestock (sheep, goats, and cows) as biosurveillance sentinels in Kazakhstan and Tajikistan by interrogating risk maps.

Study the risk of bat-borne virus spillover on livestock in Central Asia.
Publications
Orynbayev, M. B., Hitch, A. T., Kerimbayev, A. A., Nissanova, R. K., Sultankulova, K. T., Rystayeva, R. A., Omarova, . D., Kassenov, M. M., Tailakova, E. T., Smith, G. J. D., and Mendenhall, I. H. Serological exposure in Bactrian and dromedary camels in Kazakhstan to a MERS or MERS-like coronavirus. Transboundary and Emerging Diseases. 2022: 1-8.